Chilton Pharmacy
Dale Street
Chilton
County Durham
DL17 0HQ
Telephone: 01388 720874

Email: pharmacy.fpm81@nhs.net
Manager: James Slack
Email should not be used for urgent communications, appointment booking, prescriptions requests or cancellations.
Opening Hours
| | |
| --- | --- |
| Monday | 8:45am - 12:30pm, 1:30pm - 5:45pm |
| Tuesday | 8:45am - 12:30pm, 1:30pm - 5:30pm |
| Wednesday | 8:45am - 12:30pm, 1:30pm - 5:45pm |
| Thursday | 8:45am - 1:30pm |
| Friday | 8:45am - 12:30pm, 1:30pm - 5:45pm |
| Saturday | 8:30am - 12:00pm |
| Sunday | Closed |
Patient Community Pharmacy Questionnaire
Chilton Pharmacy
New Patients
To register with the practice please complete a Patient Registration Form (for both adults and children) and a New Patient Questionnaire (required for adults only). These can be obtained from reception at any of our surgeries, or downloaded below. Once completed please bring the forms to one of our surgeries, along with the required Identification Documents (acceptable forms of ID are your passport or driving licence together with proof of address and birth certificate).
You are eligible to register at a practice of your choice; this includes surgeries which may fall outside of catchment areas.
Once you have completed the forms you will be invited for a new patient check (not required by children under five years old)
Visitors to the area may attend any of our surgeries and register as a temporary resident; this means you can arrange an appointment for friends or relatives staying with you or a child home from university in the usual way (acceptable forms of ID are required).
Please return both completed forms to the surgery. If you require any assistance our reception team will be happy to help you.
Please click the links below to download the Patient Registration Form and the New Patient Questionnaire.
Online Prescription Service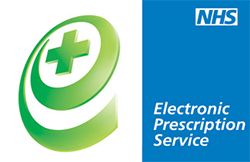 Our pharmacy offers the Electronic Prescription Service, which allows you to choose or "nominate" a pharmacy to get your medicines or appliances from. Your GP then sends your prescription electronically to the place you have nominated, this means:
If you collect your repeat prescriptions from your GP you will not have to visit your GP practice to pick up your paper prescription, saving you time.
You will have more choice about where to get your medicines from because they can be collected from a pharmacy near to where you live, work or shop.
You may not have to wait as long at the pharmacy as your repeat prescriptions could be prepared before you arrive.
Complete the contact form to enrol for online prescriptions with this pharmacy.